Dr. Walid Mohabbat
Dr. Walid Mohabbat
MB BS (Syd) FRACS (Vasc)
Research, Endovascular and Aortic Fellowships, Cleveland Clinic Foundation, USA
Biographical Sketch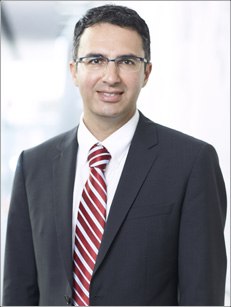 Walid Mohabbat is a specialty trained vascular surgeon with subspecialty training in endovascular and aortic surgery. He specialises in open and endovascular stentgraft repairs for abdominal aortic aneurysms (AAA) and thoracic aortic aneurysms (TAA) and aortic dissections, complex endografting (fenestrated and branched endograft repairs) for juxtarenal, suprarenal and thoracoabdominal aortic aneurysms and dissections, carotid endarterectomy (CEA) and carotid artery stenting (CAS), lower extremity endovascular treatments including angioplasty, stenting, laser atherectomy. He also specialises in endovenous therapies for varicose veins including percutaneous laser vein ablation.
Dr Mohabbat grew up on the North Shore and received his medical degree from the University of Sydney. He undertook general surgical training at the RPA and POW hospitals. He then completed a three year fellowship in vascular surgery including training years at RNSH, Sydney and PA, Brisbane. Dr Mohabbat received his FRACS (Vascular) in 2006.
Under the mentorship of Roy Greenberg, MD, a world renowned vascular surgeon, Dr Mohabbat then joined the Department of Vascular Surgery at the Cleveland Clinic Main Campus in Cleveland, Ohio USA. There he obtained his Ohio State Board Medical License and completed fellowships in the fields of vascular research, aortic surgery and endovascular surgery in the United States' consistently number one ranked heart and vascular institute. His main clinical focus was on the endovascular management of complex aortic disease with fenestrated and branched endografts. After two years in the USA, Dr Mohabbat then returned to commence vascular surgical practice.
Specialties
Vascular and Endovascular Surgery
Education and Training
Medical School:

The University of Sydney - Bachelor of Medicine, Bachelor of Surgery

Residency:

Royal Prince Alfred Hospital, Sydney

Basic Surgical Training:

RACS two year basic surgical training program in General Surgery

Advanced Surgical Training

: RACS two year advanced surgical training program in General Surgery

Specialty Training:

RACS three year advanced surgical training program in Vascular Surgery - FRACS (Vasc)

Research Training:

One year Research Fellowship in vascular and endovascular surgery in Cleveland Clinic, USA

Subspecialty Training

: One year Endovascular and Aortic Fellowship in Cleveland Clinic, USA
Certifications
Vascular Surgery

- Fellow of the Royal Australasian College of Surgeons (RACS) (Vascular Surgery)
Research Interests
Dr Mohabbat's research has focused on his specialty interests. During his research fellowship at Cleveland Clinic (CCF) he conducted research on:
Outcomes of fenestrated and branched aortic endograft techniques
Endovascular treatment of thoraco-abdominal aortic aneurysms
Management of thoracic aortic dissection
The genetic basis for aneurysmal disease
Collagen vascular deficiency syndromes / connective tissue disorders
The natural history of aortic aneurysms
The use of 3D CT workstations for imaging aortic disease and endograft planning and design
Ultrasound criteria for renal artery stenosis and in-stent re-stenosis
Dr Mohabbat has published in numerous peer reviewed journals including the Journal of Vascular Surgery, the Journal of Endovascular Therapy and the ANZ Journal of Surgery. He has authored a book chapter titled The Endovascular Management of Type 2 Thoracoabdominal Aortic Aneurysms. He presented a scientific paper titled "Revised Duplex Criteria and Outcomes for Renal Stents and Stentgrafts following Endovascular Repair of Juxtarenal and Thoracoabdominal Aneurysms" at the SVS Vascular Annual Meeting in San Diego, CA.
Research, Endovascular and Aortic Fellowships, Cleveland Clinic Foundation, USA
He has ongoing research in progress on:
Endovascular management of aortic diseases
Genetic aortic aneurysms and dissections
Genetic basis for arterial aneurysms
Fenestrated and branched endovascular aortic repair
Natural history of aortic aneurysms
Percutaneous AAA repair
Carotid endarterectomy vs. carotid artery stenting
Renal and mesenteric artery stenting
Endovascular therapies for PAD / PVD
Arterial laser atherectomy
Pharmaco-mechanical treatment for DVT
Endovenous therapy including endovenous laser
Professional Memberships
Fellow of the Royal Australasian College of Surgeons (RACS)
Member of the Australian and New Zealand Society for Vascular Surgery (ANZSVS)
Member of the Midwestern Vascular Society
Member of the Australian Medical Association
Click here for the complete Profile